Enjoy sparkling clean dishes with the Ultima HSFO 3T223 W UK Dishwasher from Hotpoint. This compact 45cm dishwasher fits neatly into narrow units, while still offering plenty of flexible space for your dishes. Popular with buyers for its brilliant cleaning performance and great value for money, the HSFO 3T223 W UK is a worthwhile addition to any home.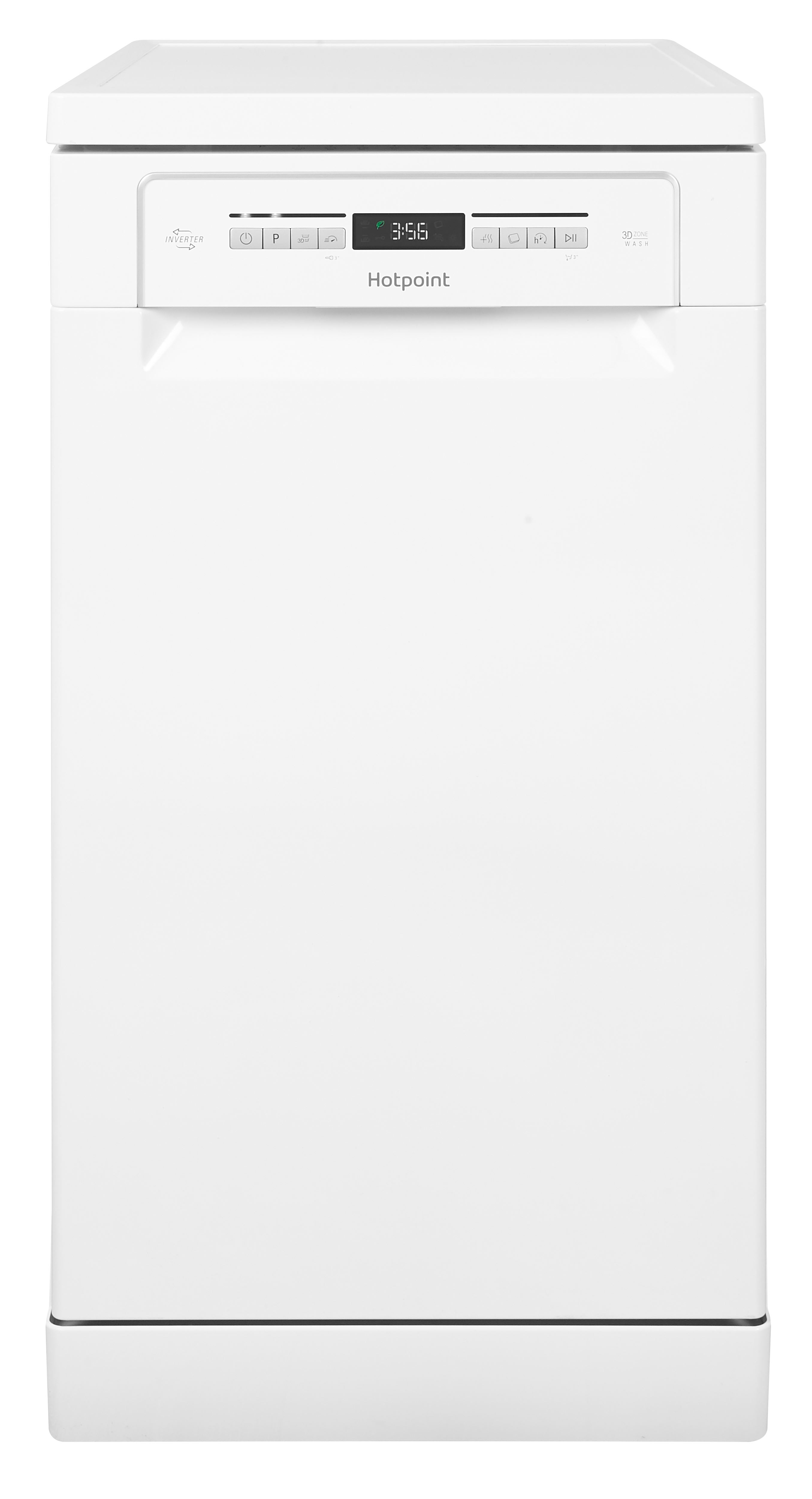 Comfortable Loading
Despite its compact size, the HSFO 3T223 W UK offers ample space for up to 10 place settings. And thanks to flexible loading options, you have more choice and freedom when adding your dishes to the machine. With the Vertical Zone, you can hang items such as pots and pans from the upper basket, creating extra space below for loading more items. Thanks to Hotpoint's Flexi Zone system, you have greater control over how you load your dishwasher. Movable elements are colour coded so that you can easily adjust the baskets to accommodate your dishware.
Powerful Cleaning
With 3D Zone Wash, you can enjoy 40% more cleaning power or 40% more energy efficiency during the wash cycle. Powerful water jets on the upper and lower spray arms, combined with the dishwasher's variable speed silent inverter motor, ensures precise control of water pressure and cleaning power. The HSFO 3T223 W UK has an A++ energy rating for its efficient water and energy usage. So, you can save money on your utility bills.
Choice of Programs
Choose from 9 different washing programs, including Eco, Intensive, Normal and Express. If you're in a hurry, the Express wash will leave your dishes perfectly clean, in half the time. While the Eco program is great if you want to save energy and use less water.
For the best price on the Hotpoint HSFO 3T223 W UK Dishwasher, shop in store or online with Kellyvision KCS Ltd. See full product details and specifications on our product page. You can collect your new dishwasher in store or arrange for fast delivery, direct to your door. Delivery is available throughout Peterborough.