Streamline your kitchen decor and never have to spend time washing up by hand again, thanks to the Hotpoint HIC 3C26 WF UK Dishwasher. With an outstanding 14 place settings, you can efficiently clean your dishes. The dishwasher is also easy to use, with its digital interface, to help you select the best programme for your washing and it has a super-quiet, smart motor which runs at 46db. This is the same noise level as a library.
This Hotpoint dishwasher combines quality craftsmanship with beauty, to create an outstanding appliance that fits beautifully into any home.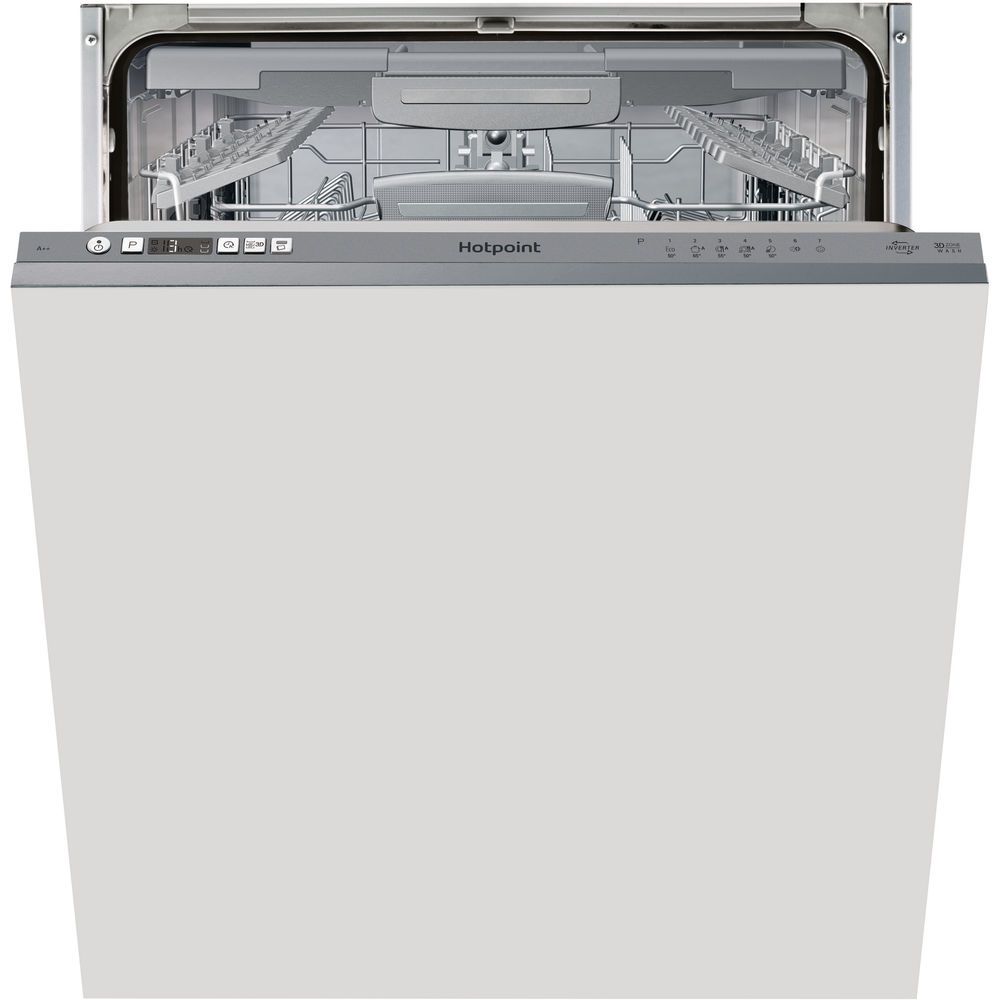 Smart Features
Hosting heaps of impressive features, the HIC 3C26 WF UK Dishwasher provides precise control over cleaning performance.
Flexiload
Included in this dishwasher is the handy flexiload. With a capacity for 14 place settings, this machine has flexible storage space, which includes an innovative vertical zone that allows you to secure your pots and pans vertically to free up space in the baskets below. It also has a dedicated third rack for cutlery and utensils.
Inverter Motor
Also included with this model is the innovative inverter motor. This motor will properly calibrate the water pressure and cleaning force, to work in combination with the optimised electronic control at all times. The magnets in the motor also allow for precise control over the sprayers, to direct the water with the correct pressure, in the right spot at the right time.
3D Zone Wash
This dishwasher also features 3D Zone Wash. Together, the powerful water jets from the upper and lower spray arms and the variable speed inverter motor make sure that the exact amount of water needed is used throughout the basket for either 40% more cleaning power or 40% more energy efficiency, depending on your needs.
Expert Programmes
The dishwasher also includes a smart interface which allows you to choose the right programme for your washing. These programmes include a quick programme for when you're in a time crunch, an intensive mode for those hard to remove dried-on stains as well as an Eco mode and various other programmes.
If you're looking for extra cleanliness, this dishwasher also features an extra sanitising programme which uses a special cleaning solution whilst the machine is empty so that the dishwasher cavity is always kept clean.
A delay timer also allows you to schedule the time of the day when you need clean dishes the most.
Energy Efficient
What's more, along with a range of impressive features the HIC 3C26 WF UK Dishwasher also has an equally impressive A++ energy rating.
With a range of outstanding features and class-leading quality of build, Hotpoint is the perfect choice for your next dishwasher. However, you still require great customer service and delivery options throughout Peterborough. Here at Kellyvision KCS Ltd you can get the Hotpoint HIC 3C26 WF UK Dishwasher with great service and a guaranteed excellent price, click here for more information.